SilverStone SX1000R is an SFX12V 4.0 & PCIe 5.0 revision of the SX1000 v1.1. It uses SFX-L form factor and its expected to releases in June 2023, priced at $300.
SPECIFICATIONS
MODEL
SST-SX1000-LPT
FORM FACTOR
SFX-L
CERTIFICATION
Platinum (Cybenetics)
DIMENSIONS
L:130 x W:125 x H:63.5mm (134.7mm in length including power connectors)
RATING
1000W continues power output
OPERATING TEMPERATURE
0°C ~ 50°C
SAFETY
Over Current Protection
Over Power Protection (110~150%)
Over Voltage Protection
Under Voltage Protection
Short Circuit Protection
Over Temperature Protection
COOLING
120mm Dual Ball Bearing Fan
NOISE
40~45dBA at 1000W Load (Semi-Passive upto 200W)
CONNECTORS
1x 24-PIN + 4-PIN
4x 8-PIN EPS / PCIe
1x 12+4-PIN 12VHPWR
3x 6-PIN Peripheral / SATA
CABLES
1x 24 / 20-PIN (300mm), 2x 4+4-PIN EPS (400mm), 1x 12+4-PIN 12VHPWR (400mm, Capped at 450W), 2x Dual 8 / 6-PIN PCIe (400, 150mm),
2x Quad SATA cables (300, 200, 100, 100mm), 3x 4-PIN Molex (300, 200, 200mm) + 4-PIN Floppy (100mm) C13 Power Cord (included)
MODULAR
Y
CABLES
SX1000R uses rigid flat cables, which are fairly common with power supplies. The individual cables can be split/separated, then cable tied, which makes them much easier to manage.
NOISE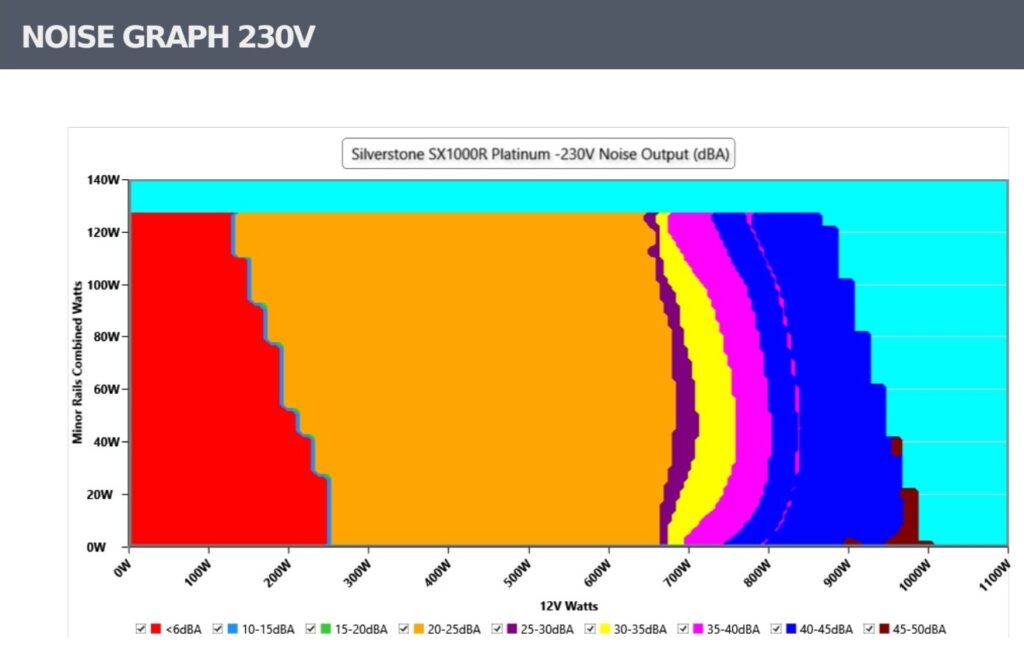 SX1000R is semi-passive upto 250W and remains around 20~25(dbA), with 970RPM fan speed under 700W load. The fan becomes progressively louder between 700~1000W. The fan noise is quite noticable, but not extremely loud, but definitely not quiet. If you're paying attention and have fairly quiet system, there is also noticable fan motor noise.
TEST SYSTEM
CONCLUSIONS
The SX1000R features the same protruding connector ports as the original SX1000. When the SX1000 was first released, power density hadn't quite caught up in 2020. In 2023, the protruding connectors on 1000W power supply feels little outdated and increases the overall length of SX1000R by an additional 5mm.
We found the included cables could use some revising. SilverStone opted to include 2x dual 6+2-PIN PCIe cables and 2x 8-PIN EPS. We feel the better approach would have been 3x 8-PIN PCIe cables + 1x 8-PIN EPS.
It's unfortunate, that there have only been minor changes from SX1000 v1.1, making the SX1000R more or less, just a 12VHPWR refresh. We also feel SilverStone has tried to cover too many base's with its choise of included cables vs. catering to the audience it's SFX power supplies are intended for.