SilverStone's Extreme 850R Platinum is 850W SFX power supply ft. latest ATX 3.0 standards, including SFX12V 4.0 & PCIe 5.0. The Extreme 850R is priced at US$269.99, but is generally priced lower on Amazon.
SPECIFICATIONS
MODEL
SST-EX850R-PM
FORM FACTOR
SFX
CERTIFICATION
Platinum (Cybenetics)
DIMENSIONS
100 x 125 x 63.5mm (L x W x H)
RATING
850W continues power output
OPERATING TEMPERATURE
0°C ~ 50°C
SAFETY
Over Current Protection
Over Power Protection (130%)
Over Voltage Protection
Short Circuit Protection
Over Temperature Protection
COOLING
92mm Fluid Dynamic Bearing Fan
NOISE
35~40dBA at 850W Load (Semi-Passive upto 200W)
CONNECTORS
1x 24-PIN + 4-PIN
1x 12+4-PIN 12VHPWR
3 x 8-PIN EPS / PCIe
3x 6-PIN Peripheral / SATA
CABLES
1x 24 / 20-PIN (300mm), 2x 8 / 4-PIN EPS (400mm), 1x 12+4-PIN 12VHPWR (400mm, Capped at 450W), Dual 8 / 6-PIN PCIe (400, 500mm), 8x SATA, 3x 4-PIN Peripheral (300mm), 1x 4-PIN Floppy (100mm) C13 Power Cord (not included)
MODULAR
Y
CABLES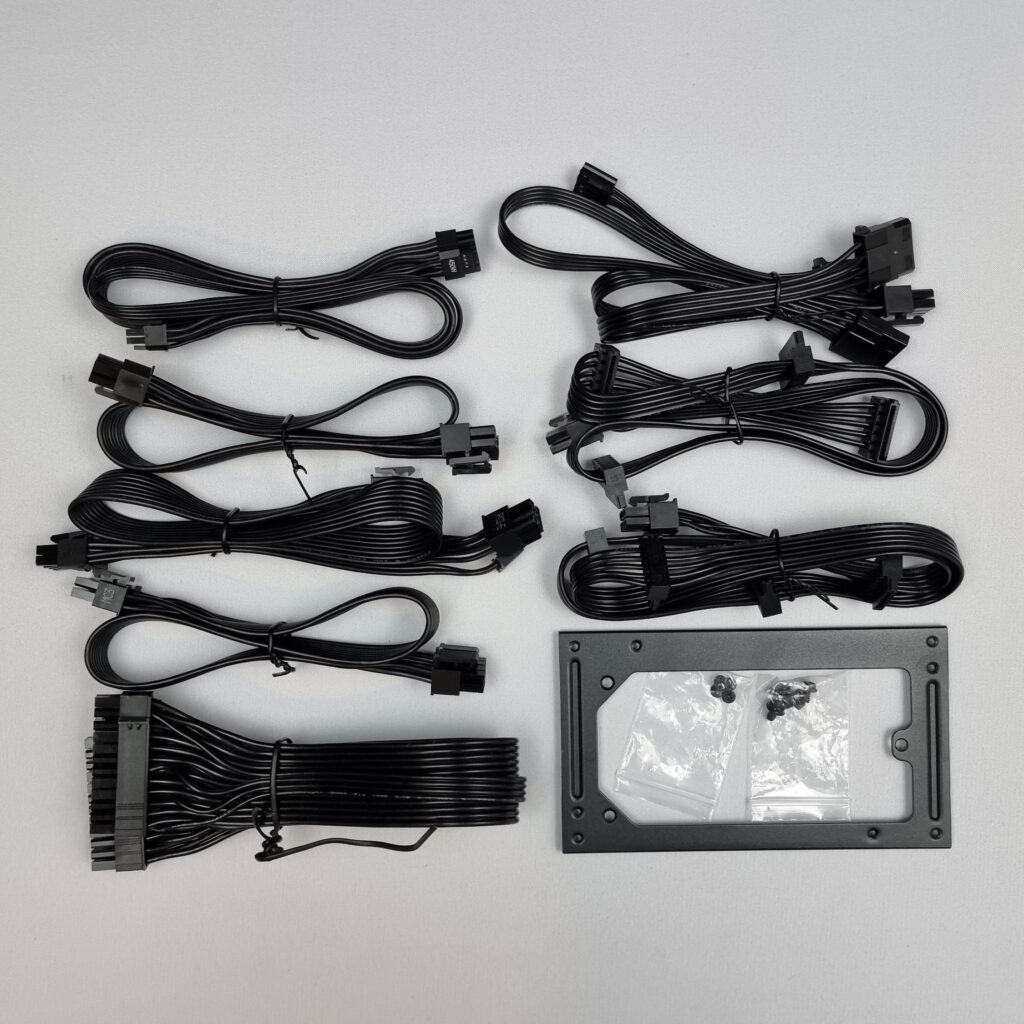 850R SFX includes 2x individual 8-PIN ESP cables, we would have preferenced 2x individual 8-PIN PCIe cables out of the box. Thankfully, the 2nd EPS connection on Extreme 850R can be used for PCIe, but requires sourcing an additional compatabile PCIe cable, if your GPU requires 3x 8-PIN's.
The 850R 12VHPWR is limited to 450W. Both SilverStone & CableMod recommend 1000W minimum power delivery to deliver full 600W via 12VHPWR.
We suggest CableMod's configurator for custom cables. Its worth noting that the Extreme 850R does not use the same cable pinout as the SX1000 for those with existing cables.
NOISE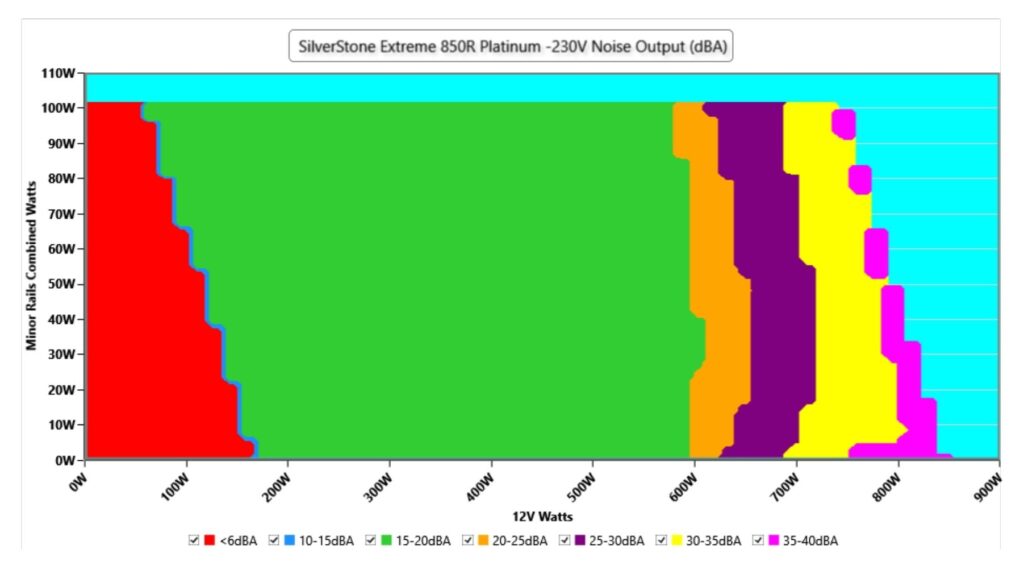 SilverStone's Extreme 850R extremely quiet, even at loads as high as 750W. In effect, it was barley measurable, even at very close distance on our recording equipment vs. a near silent liquid cooled test system.
HYBRID MODE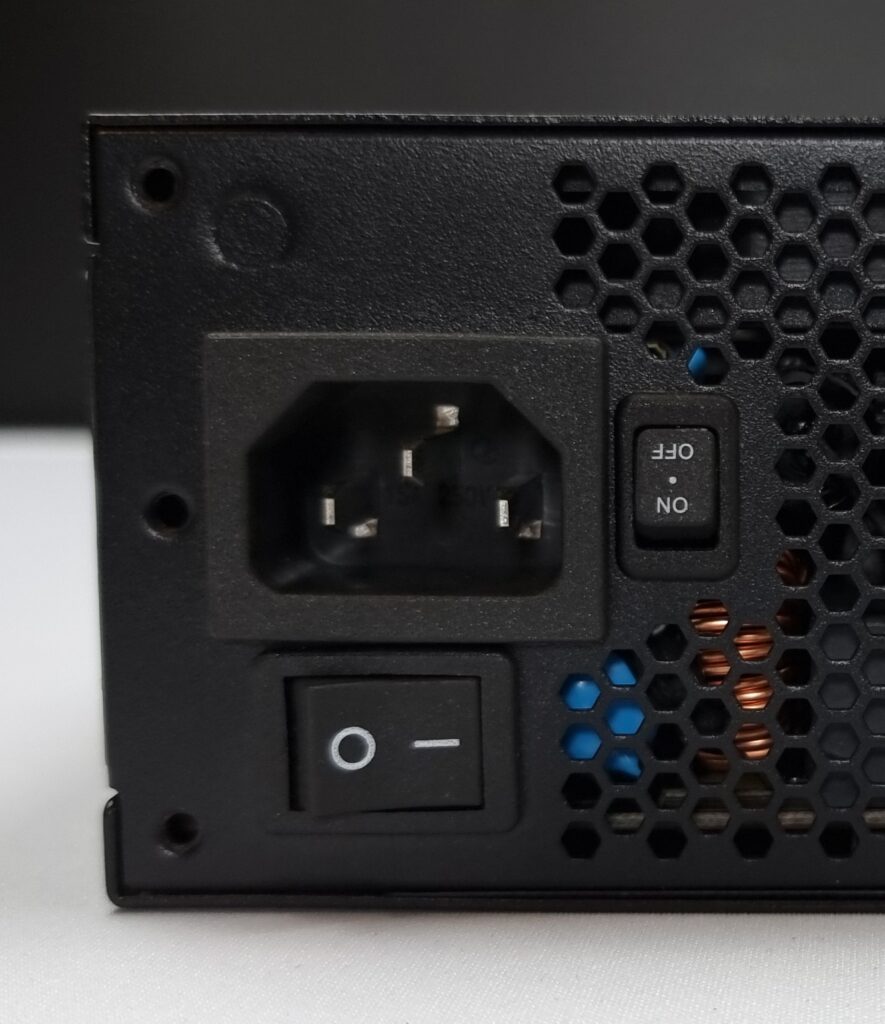 850R features two minute delayed shut off function. This is controlled by switch on the power suppy. When the 200W semi-passive mode is enabled, delayed shut off feature is disabled. You may find disabling semi-passive mode preferable in activities such as video editing to avoid the PSU fan rapidly turning on/off.
REVIEW
SilverStone currently has the best 850W SFX power supply available with platinum rating, quiet operation and ATX 3.0 compatability.
CORSAIR SF750 vs. EXTREME 850R
Corsair's SF750 & SilverStone's Extreme 850R are very comparable power supplies in terms of performance. While the SF750 has 300W semi-passive mode vs. 200W on Extreme 850R. The SF750 is quieter at lower loads, while the Extreme 850R is noticeably quieter at high loads.
CONCLUSIONS
SilverStone's Extreme 850R SFX is an easy recommendation for anyone with RTX 4000 series and high-end CPU. We found the MSRP to be little higher than we would have liked. Fortunately, it has been selling for about $220, which we feel is more appropriate price.